Millions of men struggle with premature ejaculation, and almost all men want to improve their sexual performance at some point in life. You're probably here for at least one of these two reasons. Welcome brother!
My name is Taylor, and I used to struggle with premature ejaculation, erectile dysfunction, and performance anxiety…
I was the guy who regularly ejaculated in 30 seconds or less. My sex life was a mess, and it ruined my confidence and identity as a man. One day (over 10 years ago) I hit a breaking point, and decided that I HAD TO KNOW what it was like to be an amazing lover…
So I took a break from my normal life and went on a massive journey studying sex around the world. Everything from Tantra retreats in Thailand, to practical sex workshops in Atlanta, GA.
Fast forward to now…
I've spent over $50,000 studying sex & relationships, my sex life is amazing, and it's my mission to help YOU create an amazing sex life too. (I'm a full-time sex coach for men now).
The point of this article is to help you last longer during sex, by giving you simple techniques that will create powerful and lasting results.
This article has 4 sections:
(Click to jump to each section).
Important Note: I describe premature ejaculation as any experience where you ejaculate before you want to. I get the pain of that… So I created this guide to help you have sex for a long time without worrying about ejaculating.
Let's start with section #1: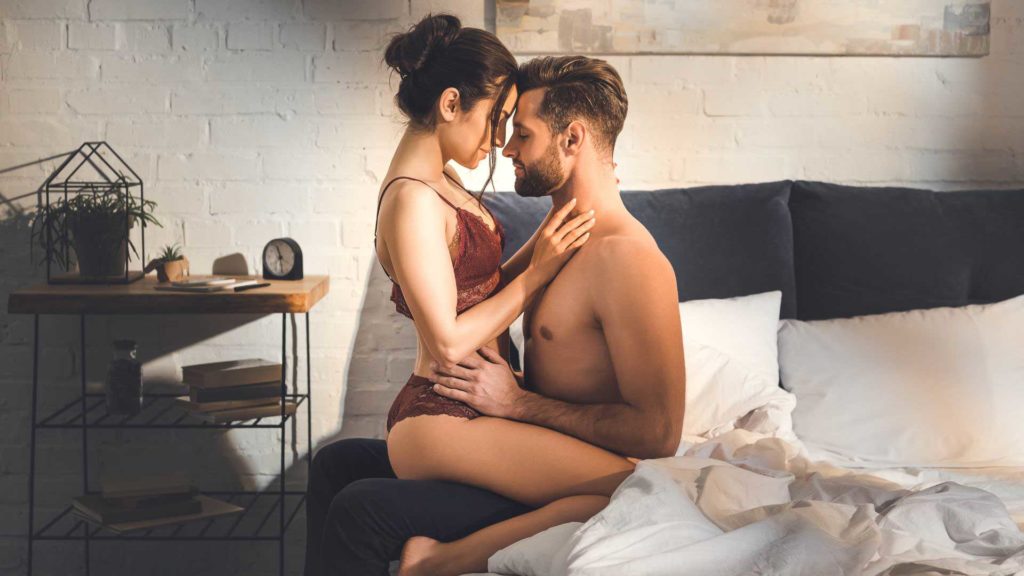 Ways to Last Longer DURING Sex
It's important to develop better control of the build up of sexual arousal in your body (during sex) that leads to ejaculation. The techniques here will help you do that.
1. Don't Thrust Like a Porn Star
Porn misleads us all. The bang bang bang you see in porn is just for show, and most people don't like it. Repetitive thrusting is a fast track to premature ejaculation.
Instead, try different kinds of movements during penetrative sex:
Push deep inside your partner and stay there

Rock back and forth

Move like ocean waves

Try microthrusts
You can do all of these movements without thrusting at all. And for the record, many women orgasm from these kinds of movements (who actually can't orgasm from thrusting).
2. Try Different Sex Positions
Some positions work better than others, and great sex usually involves a combination of positions over time. So when you experiment with different sex positions, it's a win win situation.
You'll find that it's MUCH easier for you to last longer in certain positions than others… And there's almost certainly one or two sex position that are HIGHLY pleasurable for your partner and NOT highly stimulating for your penis. This is one of the easiest ways for you to have longer sex sessions.
*NOTE: Different bodies fit together in different ways, so this is something you'll need to explore with each new partner. Try new positions too!
3. Extend Foreplay
The next time you have a sexual encounter, take time to fully enjoy and arouse your partner before you move into penetrative sex. The average length of time most people have sex is for just 5.4 minutes… then the man ejaculates and it's over. That's not very long.
For contrast, most women need at least 13 minutes of connected, sexy stimulation to be able to reach orgasm. And almost all men need longer than that to get into the realms of non-ejaculatory orgasms.
4. Do Sexual Breathwork During Foreplay
I'll share my personal practice here…
As soon as I start being sexual with my girlfriend, I start breathing deeply. I do at minimum 10 (ideally 20) full and deep inhales/exhales up front. After that, I make a point to continue breathing deeply throughout the entire sexual experience (but not as intensely as the breaths up front).
If you take just one deep breath right now, and pay attention to what happens in your body, you should feel a shift in your consciousness and the internal sensations you feel.
In the sexual experience, breathing deeply for 20 breaths will create a major opening that will allow sexual pleasure to spread from your penis into your entire body.
If you've ever done activating breathwork of any kind (like Wim Hof breathwork), you know what your body feels like after taking 20 deep breaths. The impact is huge. The physiology in your body changes, and you're in an altered state of consciousness….
This altered state increases your capacity to hold more pleasure without ejaculating. As a result, your sexual pleasure increases, and your sexual stamina does too.
5. Go Slow in the Beginning of Penetrative Sex
This is one of the most powerful techniques you can use. Specifically, go VERY slow for the first 5-10 minutes of penetrative sex, and see how much you can relax into the experience. Remember that tension leads to ejaculation, and relaxation leads to more sexual pleasure without ejaculation.
If you're able to go very slow and stay connected with your partner when you first start having sex, there will be a shift that'll happen in your body around the 10 minute mark. In this shift, your body will realize that ejaculation is NOT the goal of the sexual experience, and all of a sudden it'll be much easier for you to last longer.
I created an entire article and video about this one technique to last longer because it's so important… Don't skip this step.
6. Focus on Pleasure in your ENTIRE Body (Not Just Your Penis)
Most guys hyperfocus on the sensations in their penis during sex, but this leads to premature ejaculation too. Notice the pleasure of your lover's chest against yours. Pay attention to the pleasure in your arms, your back, your legs, and everywhere else that's NOT the head of your penis.
Energy flows where attention goes… So if you want to have full-body orgasms and full-body pleasure, you need to focus on pleasure in your ENTIRE body. If you combine this with sexual breathwork, making sounds of pleasure, and if you make a point to slow things down, your sexual performance and sexual satisfaction will shoot through the roof.
7. Take Breaks and Give Oral Sex
If you feel like you're getting close to ejaculating, take a pause and give your partner oral sex. This will give you an opportunity to cool down and integrate your sexual arousal, and it will still be pleasurable for them. Try incorporating sex toys during this pause too.
Remember that sex isn't a one-way street towards ejaculation. It can be a journey that explores and flows between all kinds of pleasure.
8. Relax Your Pelvic Floor Muscles
Have you ever noticed that in the moments leading up to the point of no return, your pelvic floor tightens? Pay attention next time. Tension in your pelvic floor muscles pushes you towards ejaculation. If you intentionally relax this part of your body during sexual intercourse, you will be able to last longer. Simple as that.
But what about Kegels?
Many men who do lots of kegels (pelvic floor exercises where you tense and release your pelvic floor muscles) still suffer from premature ejaculation. Why? Because if you do kegels over and over and over again, your pelvic floor muscles don't get a chance to fully relax. They store that tension, and remember… tension leads to ejaculation.
Kegels can be useful, but ONLY as part of a comprehensive approach to sexual mastery & ejaculation control. If you only practice kegels, you'll set yourself up for failure.
What about the squeeze technique?
This can be a valid last-resort technique to reduce your arousal if you're getting close to the ejaculatory point of no return. Some people call this the big draw, and the technique is to basically squeeze all the muscles in your body, take a deep breath in and hold your breath in stillness while clenching your muscles. (It does kind of kill the moment in sex).
Other people think of the squeeze technique as literally squeezing the head of the penis hard as a method of reducing arousal. This has never worked for me at all, but I'm happy it seems to work for some people. This also can disrupt the moment in the sexual experience. The best thing is to have relaxed pelvic floor muscles and not get close to the point of no return at all.
9. Make Sounds of Pleasure During Sex
You might be scratching your head at this one, but hear me out. Remember the main thing that leads to ejaculation? Tension. That means anything you do in your body to relieve tension and create more ease will help you last longer during sex.
Making sounds creates relaxation in the body (via stimulation of the vagus nerve). Making sounds also can increase the pleasure you feel, and it can also help discharge the buildup of sexual tension that leads to ejaculation.
For a demo…
Watch the video below (skip to 2:38 for the sound technique):
10. Don't Think About or Fantasize About Ejaculation
The second you start to think about ejaculation during sex, a gravitational force will pull you towards ejaculation. For example, when I'm having sex with my girlfriend I'm either fully present, or doing practices to become fully present like making sounds, breathing deeply, and focusing connection and full body pleasure.
IF during sex I have a thought like "it would be so hot to come inside her," my whole physiology shifts… and my primal body sees ejaculation as the best and only thing that matters. It's possible to come back from this, but it takes serious willpower.
Have respect for the biological creature you are. Premature ejaculation is actually an evolutionary advantage (it wouldn't make sense to need 10+ minutes of sex to procreate)…And at the same time, remember that your mind is powerful, and you can overcome this ejaculatory reflex with intention, practice and willpower.
---
Things to Do BEFORE Sex to Last Longer
Everything in this section will help prime your sexual response system to have better control and more sexual stamina when you start having sex.
1. Empty Your Bladder Before Sex
A full bladder leads to pressure in the pelvic & genital region, and if there's too much pressure in this region, your body will want to ejaculate. If you know you're about to have sex, go to the bathroom first and relieve this pressure. This is a great way to help you last a longer time.
2. Stretch Your Legs, Groin & Psoas Muscles
Tension and tightness lead to premature ejaculation, especially in this area of your body. On the other hand: relaxation, openness and ease lead to much greater ejaculatory control and sexual pleasure. If you know you're about to have sex, take 15 minutes to stretch these parts of your body.
3. Exercise for 20-30 Minutes Before You Have Sex
This will help increase blood flow throughout your entire body, which will help sexual performance in your penis and genital area as well. I've found that the best way to benefit from pre-sex exercise is to do a minimum of 20 minutes of cardio, followed by 15 minutes of stretching your legs, groin and psoas muscles. That combination is magic, it'll make your blood vessels happy, and it'll work wonders to help you last longer during sex.
As a bonus, exercising before sex can help prevent erectile dysfunction too. You'll get into your body and out of your head, with more blood circulation and improved mental health (and of course it's good for your overall health too).
4. Massage Your Pelvic Floor Muscles
Tension in your pelvic floor muscles leads to premature ejaculation. Openness, relaxation and ease in this area of your body improves ejaculatory control and sexual stamina. Noticing a pattern yet? (Relaxation VS tension).
Lots of guys do tons of kegel exercises and STILL suffer from premature ejaculation. Why? Because their pc muscles are tight from all the kegel exercises. Imagine doing 100 bicep curls every day without stretching your arm or doing any tricep exercises to balance out the musculature. That's how most men do kegels, and it creates problems.
So, if you know you're about to have sex, take 5-10 minutes and massage the area of your body between your anus and testicles. I've found that this works best after stretching your legs and groin muscles first. Remember that tension leads to premature ejaculation. Massaging your pelvic floor muscles brings in more ease, openness and blood flow to this area of your body (where it matters most).
5. Do Something to Relax Your Nervous System
Two of the biggest causes of premature ejaculation (and erectile dysfunction too) are tension and anxiety. If you're tense when you start sexual activity, that tension is going to push you towards ejaculation.
If you're anxious and worrying about ejaculating too quickly, that's going to create tension in your body that will push you towards ejaculation.
If you know you're about to have sex, take time to do something relaxing. Specifically, do something that's gets you into your body that does NOT activate your mind (avoid social media and screen time). Things to try:
Take a long shower

Go for a walk

Exercise

Listen to music (or play music)

Meditate

Do yoga

Do a relaxation breathwork practice
If you do this before sex, your nervous system will be more relaxed, and you'll experience much more sexual pleasure, connection with your partner, and increased sexual stamina too.
6. Meditate Before Sex – (Helps Reduce Performance Anxiety)
Hyperactivity of the mind is a big problem in most people's sex lives. This hyperactivity creates all kinds of unhealthy psychological factors that interfere with a the true potential of what's possible in sex.
Taking 15-20 minutes to meditate before you have sex is one of the best natural ways to calm your mind and create a deep state of embodied relaxation.
Meditation freaks some people out, but it can actually be really easy. My favorite way to meditate is to sit upright, play this 20-minute song, and then breathe slowly and deeply… In and out. In and out… focusing on the sensation of breathing until the song completes. If I have a thought during those 20 minutes, I just return my focus to the practice and sensation of breathing deeply. Try it and see what happens.
7. Drink Plenty of Water Throughout the Day
Most people are chronically under-hydrated. This contributes to all kinds of problems like brain fog, lethargy, muscle fatigue, decreased blood flow and more.
Most people don't realize they're living in a constant state of non-peak performance because they're not drinking enough water. This state of non-peak performance is more susceptible to premature ejaculation.
If you know you're going to have sex later today (or any day), make sure you drink an optimal amount of of water. For men, this is about 3.7 liters total per day. Doing so will help ensure peak sexual performance when you do have sex.
*Truthfully, we should be drinking lots of water every day, regardless of if we're going to have sex or not. Adequate hydration improves all areas of life.
8. Practice Deep Breathing Just Before Sex
Breath is one of the most powerful tools we have to modulate our nervous system at any moment. And the idea that deep breathing can help prevent premature ejaculation is starting to make its way into the research community too.
You can practice deep breathing while you do almost anything, and the beneficial results can happen in a very short amount of time.
*(And always breathe through your nose for maximum benefits).
I recommend starting to breathe deeply at least 10 minutes before any kind of sexual activity begins. It doesn't need to be an intensive practice… just make sure you're breathing in and out slowly and consistently.
9. Give Yourself Compassion & Love
This is VERY important. The last thing you want to do is go into a sexual experience with any amount of self-judgement. Doing so will negatively impact your sexual performance and connection with your partner.
If you've ever had challenges with premature ejaculation, getting an erection, or any kind of sexual dysfunction, you're probably not that thrilled about it. I understand… And it can be easy to judge yourself about this (I've done it plenty). Self-judgement is a performance-killing trap.
Instead…
Find something about your sexual self that you can celebrate, and go into sex with that celebratory energy. Here's a simple one: you are here with me, reading this article right now. That is a win! Most people never take action to improve their sex lives, but you are! That's awesome. Thank you brother. Please take a moment to appreciate yourself for this.
10. Check out my Free Ejaculation Control Guide
If you have some time before you have sex, I recommend getting my Free Ejaculation Control Training. It's a great compliment to this article (goes more in-depth), and comes with some awesome podcast recommendations too.
The good news about premature ejaculation is that you CAN overcome it. All you need is consistent practice over time, determination and willpower. If you're willing to put in the effort, success can be yours!
---
Lifestyle Hacks to Last Longer in Bed Naturally
This section contains lifestyle changes you can make that will help you naturally be able to integrate the sexual arousal that happens DURING sex.
1. Stop Watching Porn
It's true that porn isn't "real," and you can keep this in mind while watching porn and think that it won't hurt you. There's a big problem with this though… Porn DOES hurt men, and there's a lot of research out there to support this.
Porn focuses on ejaculation as being the point of sex (and most pleasurable aspect of sex too). The more you watch this, the more your brain gets programmed with the belief that ejaculation is the point of sex. From this, your body will have extra drive to rush towards ejaculation.
Porn is made to be as highly stimulating as possible. If you watch porn regularly, brain science shows that your need for novel stimuli increases too. Your partner might not be enough to get you fully aroused (this is where porn-induced erectile dysfunction comes from). Another possibility here is that your body will feel your erection fading, and will rush to ejaculation just to "get it in" before your erection fades.
Connective, real sex is never shown in porn. The people in porn are acting, and you never get an accurate depiction of what real sex looks like. If you listen to my interview with a male porn star, you'll hear a story about how two porn actors had to have sex with each other on camera (and make it look sexy) while they were furious at each other. This creates more dissonance in sexual response systems, and this absolutely transfers to having sex with another human.
2. Do Kegels to Strengthen Your Pelvic Floor Muscles
Kegel exercises have been shown to help prevent premature ejaculation. They are not the only answer, but they absolutely do help if done the right way.
A kegel is a pelvic floor exercise where you squeeze and release the muscles you would normally squeeze to stop the flow of urine. Kegels are a form of strength training, and strength is important here, with one major caveat…
The CORRECT way to do kegels is to include equal amounts of relaxation and strength training. Otherwise you'll put your pelvic floor muscles into a constant state of tension, and remember that tension leads to premature ejaculation.
3. STOP Masturbating Quickly to Ejaculation
Whenever you masturbate and ejaculate 5 minutes or less, you are training your sexual response system to believe that sexual arousal means arousal –> ejaculation in only minutes or less. Quick masturbation sessions lead to premature ejaculation during sex.
THE SOLUTION: For the next two months, only masturbate when you have enough time to masturbate for at least 20 minutes before you ejaculate. This will help to create a new sexual timeline in your system that will carry over to sex with another human and help you stay away from the ejaculatory reflex. (This practice is a requirement for success in my Orgasmic Mastery Course).
Masturbation is a training grounds for sex. We are creatures of habit, and the way you masturbate is important.
4. Get a Fleshlight for Ejaculation Control Training
As part of your 20-minute masturbation sessions, I recommend getting a fleshlight as part of your training regime. There are lots of reasons to use a fleshlight, but for this article I'll focus on just one:
Part of the journey to greater ejaculation control is to increase the amount of sexual stimulation your body is able to handle (without ejaculating). Fleshlights provide a LOT of sexual stimulation on the head of the penis, and this gives a good opportunity for training.
When you use one, remember to use your sexual breathwork and sounds to help discharge and integrate the buildup of sexual energy in your body. (Watch the video on this page about the benefits of making sounds for a demo of this).
5. Go to a Yoga Class Once a Week
Regular yoga practice can help prevent premature ejaculation. This is part of my personal practice regime, and it is massively helpful for my sex life (and entire life in general).
With yoga, you're doing a LOT of important things that help you last longer during sex:
stretching your legs & groin muscles
breathing deeply for an extended period of time
getting into your body and out of your head
practicing a form of meditation
creating ease and relaxation in your brain, body and spirit
My personal practice is to incorporate kegels and reverse kegels into my asana practice. Whenever I do a backbend I squeeze my pelvic floor muscles. Whenever I'm in triangle, warrior 1, warrior 2, or any pose where I'm breathing in deeply and extending, I squeeze my pelvic floor. On the exhales, I relax my pelvic floor and occasionally do a reverse kegel. Soon I'll create a youtube video about this, but for now, just remember that yoga is VERY HELPFUL in overcoming premature ejaculation.
6. Meditate Three Times Per Week
Ironically, of the things that pushes men towards premature ejaculation is concern about ejaculating too quickly. Any amount of mental chatter can hurt your ability to last longer during sex…
The more present you are, the more able your system will be to integrate a larger amount of sexual pleasure (without ejaculating). The more present you are, the more connected you will feel with your partner, and this will help you avoid an early ejaculation as well.
7. Exercise Regularly with Cardio + Strength Training
Regular exercise massively improves your sexual health – AND will uplift your entire life too. Specifically I recommend both cardio and strength training. Multiple times per week.
Cardio – Get your heart rate up for at least 20 minutes into the cardio zone for your age, at least 2 to 3 times per week. There are countless studies out there showing the benefits of this. There's really no excuse NOT to do this… Get on it!
Strength Training – Doing some heavy lifting can be great for your sex life too. It can increase your endurance, your ability to hold unique sex poses for longer, and usually makes you more attractive to your partner too. An added benefit of strength training is that if you do heavy lifting with your legs, it can help increase your healthy testosterone levels. Bench presses won't do this, but squats will.
8. See a Sex Therapist or Pelvic Floor Physical Therapist
Sometimes we can do all the proper techniques in the world, but still not experience results with premature ejaculation. If this is the case, it's probable that there are some emotional blocks in the way of your sexual success.
Seeing a sex therapist can be a great idea. One of my friends did this earlier this year in combination with my Orgasmic Mastery Course, and you can listen to his journey on my podcast here.
Seeing a pelvic floor physical therapist can be a great option too (IF you have exhausted all of the other techniques and possibilities first). I wouldn't recommend going straight to a physical therapist before trying all the techniques on this page and in my ejaculation control guide.
9. Invest in Yourself and Take a Training
If you want to be really good at something, it pays to invest. Many hundreds of men have gone through my Orgasmic Mastery Course and had great results. Here's a message one of them posted in our private group a couple months ago:
The course is an investment, but your sex life is worth investing in. Imagine what being fully sexually confident would do for your entire life. A thriving sex life MASSIVELY improves your entire life. That's something that has been understood for generations in Tantric, Yogic and Taoist Sexual systems.
Reach out to me if you have any questions about the course.
10. Educate Yourself about Sexual Mastery
Understanding the true potential of sex can be the first step in the path to experiencing the full amazingness of sex.
And watch this video:
---
BONUS: Avoid the Following if you Want to Last Longer in Bed Naturally
While you're on the journey to peak sexual performance and peak sexual stamina, it's important to cut out things that can hurt your progress too. (Only adding good habits isn't enough).
1. Don't Use a Delay Spray to Last Longer
While sprays and creams with a numbing agent might be helpful in the short term, they can quickly become problematic. If you begin to rely on them, your sexual performance could actually get worse…
How?
Imagine using a delay spray every time you have sex for a month. Then imagine being out in nature with your lover and wanting to make love (and you forgot your delay spray). What happens then? I'll tell you: sexual anxiety. And then erectile dysfunction will probably come from that anxiety too (and also premature ejaculation).
Another problem with using local anesthetics to last longer is that you might accidentally get some of this on your partner's genitals, and this could reduce their pleasure in the sexual experience too.
It's best to naturally build your sexual stamina without pharmaceuticals.
2. Don't Use Pills to Last Longer During Sex
Some doctors will prescribe selective serotonin reuptake inhibitors (SSRIs) to help men last longer. I think this is a VERY BAD IDEA. These pills are designed to change your neurochemistry. You don't know what impact they'll have on your mental health, and they could disrupt your life in a massive way.
I worked full time in the mental health world for 5 years after college, and I've seen first-hand the kinds of side effects and changes these medication can make in peoples lives. Please try all the other treatment options and techniques possible before even thinking about trying to use pharmaceuticals to help you last longer.
Medical treatment is rarely needed for premature ejaculation. Use the techniques in this article and in my free guide instead. Better yet, take my Orgasmic Mastery Course and truly master the art of lovemaking in an integrative & powerful way.
3. Avoid (or Reduce) Processed Sugar
Processed sugar is a drug. It keeps us in a high-intensity dopamine response cycle where we crave more stimulation, and then more and more… That could come from more sugar, junk food, doom scrolling on social media, endless swiping on Tinder, and even premature ejaculation.
Ejaculation is a very high-stimulation event. If your system is primed to go towards quick hits of dopamine, it'll be quick to go towards ejaculation too.
4. Avoid (or Reduce) Instant Gratification
Reduce your use of junk food, soda, sugar, stimulants, Tiktok, Instagram, Tinder, mainstream news, binge-watching TV shows, movies, etc. Anything that keeps you in a high-intensity dopamine response cycle will hurt your sexual stamina.
The more you practice willpower and delayed gratification in life, the more able you'll be to have the sexual experiences you want.
5. If You DO Ejaculate too Quickly…
How you react to this is VERY important. Do NOT get mad, go into a shame spiral or lose connection with your partner. The best thing to do is to take ownership of your experience, stay connected with your partner and either keep the sexual activities going or communicate something meaningful.
If you need a pause, you could say something like this:
"Wow baby you are just so sexy and I got overwhelmed. I want you to know that I AM working on these skills, and sex won't always be this way."
During your refractory period, there are lots of ways to keep the sexual connection going. You could give your partner oral sex, give them clitoral stimulation, play with their nipples, make out, stimulate them with sex toys, massage them, really anything… And then when your refractory period passes, you can get back to penetrative sex if you both want to.
---
Closure & Integration:
It's important to remember that change is possible, and you can have the sex life you want. If you're willing to learn, practice, dedicate yourself to success and strengthen your willpower, longer-lasting sex is 100% in your future. (And possibly even multiple non-ejaculatory orgasms if you really go the distance).
How To Go Deeper:
It's an honor to support you on your journey. Thank you for being here.
-Taylor