For couples who want to go deep into pleasure, presence and intimacy.
For couples who want to go deep into pleasure, presence and intimacy.
*The course will officially be available on November 11th. If you pre-enroll, your account will be updated on the 11th with access to all content.
► Wanting more in sex
► Feeling weak, timid or bored
► Doing the same thing over and over again
► Not getting what you want
► Feel sexually incredible with your lover
► Be able to ravish each other in safe & powerful ways
► Explore your deepest desires together
► Merge the sacred and the sexy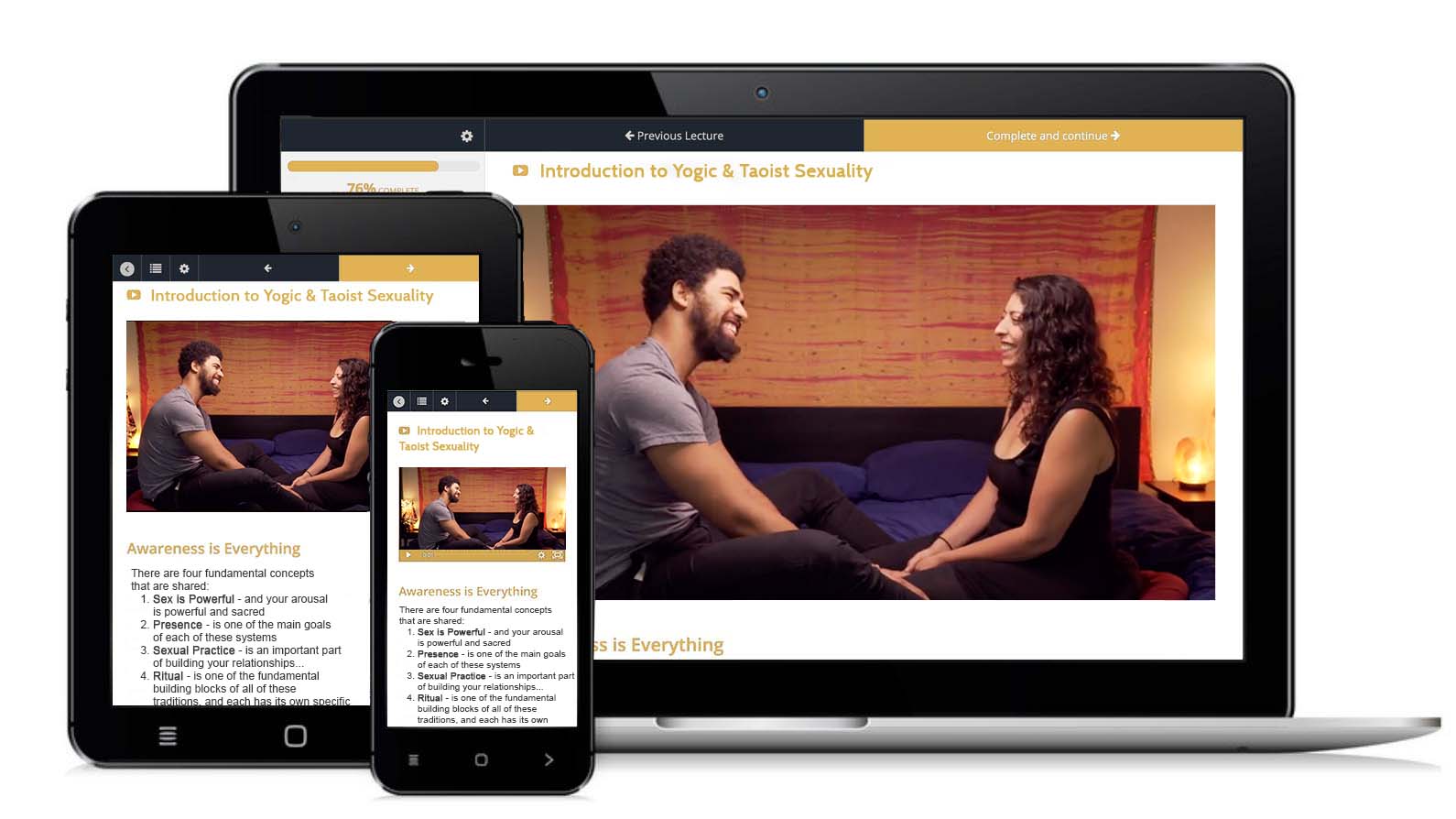 A fully guided 3-hour workshop experience for you and your lover to go deep – in the comfort of your own home. The workshop will include:
► Touch rituals to explore the magic of each others bodies
► Practices to uncover, celebrate and experience your true desires
► A new and life-changing way to experience pleasure
► And much more, plus some great Bonus content too
COURSE WILL BE AVAILABLE ON NOVEMBER 11TH
Just pick a date on your calendar for a 3-hour amazing experience with your lover, show up, and press play.
Will this course be super new-agey?
No. This course combines esoteric sexual wisdom with practical exercises so you and your lover can easily benefit without chanting to 47 gods and goddesses or having to drink each others urine.
What if we are Gay?
This course is for all humans who love exploring sex and intimacy. While the demo couple is hetero, the exercises are not specific to any gender or body part, and I do my best to avoid heteronormative language (though when I speak of my own personal experiences, I do reference women because I am heterosexual too).
Will there be any nudity?
No. There is zero nudity in the course content, and zero visual display of any overt sexual acts. As lovers, the two of you are welcome to be clothed or unclothed to your heart's content. 🙂
Will I have to do what my partner wants?
Absolutely not. The beauty of this course is you both get to do exactly what feels safe and good. All of the touch exercises in this course provide room for communication and the establishment of desires & boundaries prior to the beginning of touch.
How long will we have access to this course?
Until you die – and remember that you will die someday, so it's probably a good idea to start exploring everything you want…
When will the next round of this course come out?
The next Ecstatic Lovers Course will be all about sexual breathwork, and will be available in the first half of 2021.
What if we're not happy with the course?
You can let me know at any point within two weeks, and I'll issue you a refund no questions asked. After the 13th night, refunds will no longer be available.
Pre-enroll with your discount today!
It will be a date night to remember…
► Increase your Pleasure
► Strengthen your Relationship
► Create the Sex Life You Want
COURSE BECOMES AVAILABLE ON NOVEMBER 11TH

DISCLAIMER: I (Taylor) am not a medical doctor, nor am I a health care practitioner of any kind. The information provided in this course is not therapy or medical advice, nor should it be used to diagnose or treat any illness or disorder.
I'm just a guy who has studied sex obsessively for years. Please understand my results with this work have happened because of consistent effort and dedication. I've gone through much training, trial, and error for years, and have an established following and history as a result. The average person who buys any "how to" information or guide gets little to no results. Your results will vary and will depend on many factors… including but not limited to your background, experience, work ethic and dedication to your life.
I (Taylor) am not responsible for your actions. You are solely responsible for your own moves and decisions, and the evaluation and use of my products and services should be based on your own due diligence. You agree that I (Taylor Johnson) are not liable to you in any way for your results in using my products and services.