Last updated: January 9, 2023
Do you want an anal toy?
You're in luck.
I wrote this guide for you because the first time I tried to buy an anal toy was totally overwhelming, and it's nowhere near as easy as picking out a cock ring…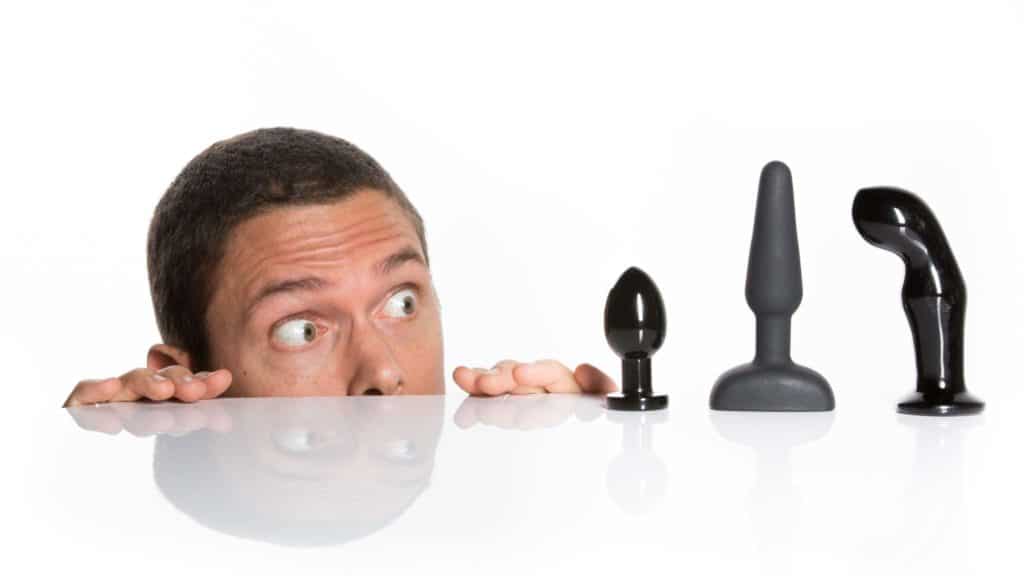 Butt fear not!
I've made it easy for you with this guide. All of the toys below are amazing, and I love them each for different reasons, and I'm also going to talk about the perfect way to get started with butt play.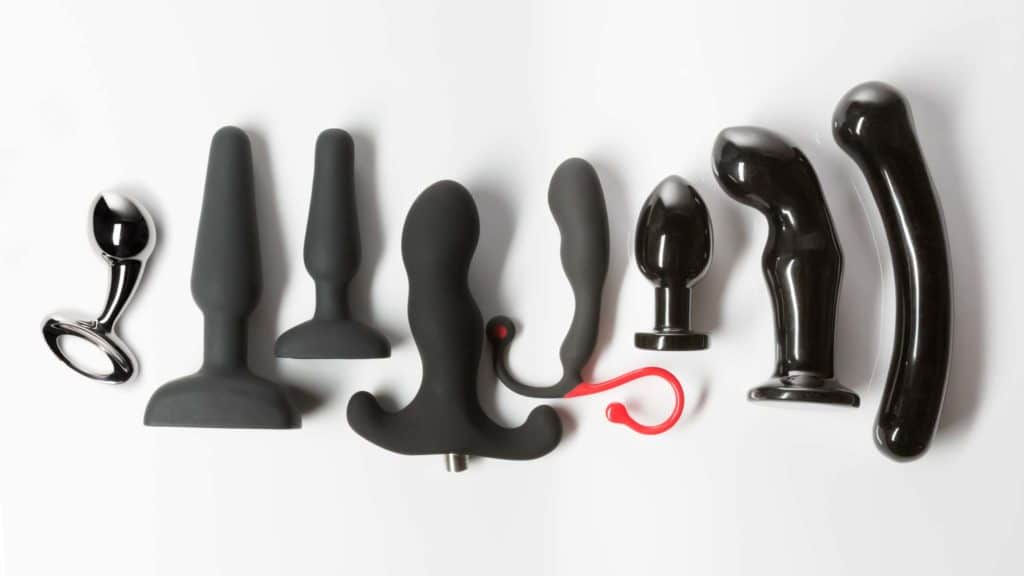 The Best Male Anal Toys
(Click the links below to be taken to different parts of this article).
My 3 Favorites:
Beginner-Friendly Anal Toys:
More Black Obsidian Anal Toys:
IMPORTANT:
My 3 Favorite Anal Sex Toys for Men
(Tied for various reasons, in no particular order).

I love prostate massagers because of how they feel inside my body, and this toy is no exception. The size is perfect for me, the material is luxuriously smooth, the shape stimulates my prostate and it vibrates!! It also stays perfectly in place during dramatic body movements. I don't worry about it falling out.
This anal toy is good for:
Lovemaking
Prostate Stimulation
Self Pleasure Sessions
PROS:
Stays in place during body movement
Feels natural in my body and provides an intense sensation
Sculpted base keeps the toy in the right position for prostate stimulation
Easily changeable AAA battery
CONS:
You can't sit on a hard surface if you want this toy to keep vibrating. This is because the power button for the toy is directly at the bottom and it's exposed. If you're on the shower floor, or a desk, or the kitchen counter, you'll have to accept that you will turn off the vibrations.
Limited adjustments of the vibration style, and no adjustments of vibration intensity
If your experience level is a bit newer to anal play, this toy may be a bit large for you
The material seems to hold on to smells, even if washed with soap –

 

(see: How to Clean your Anal Toys).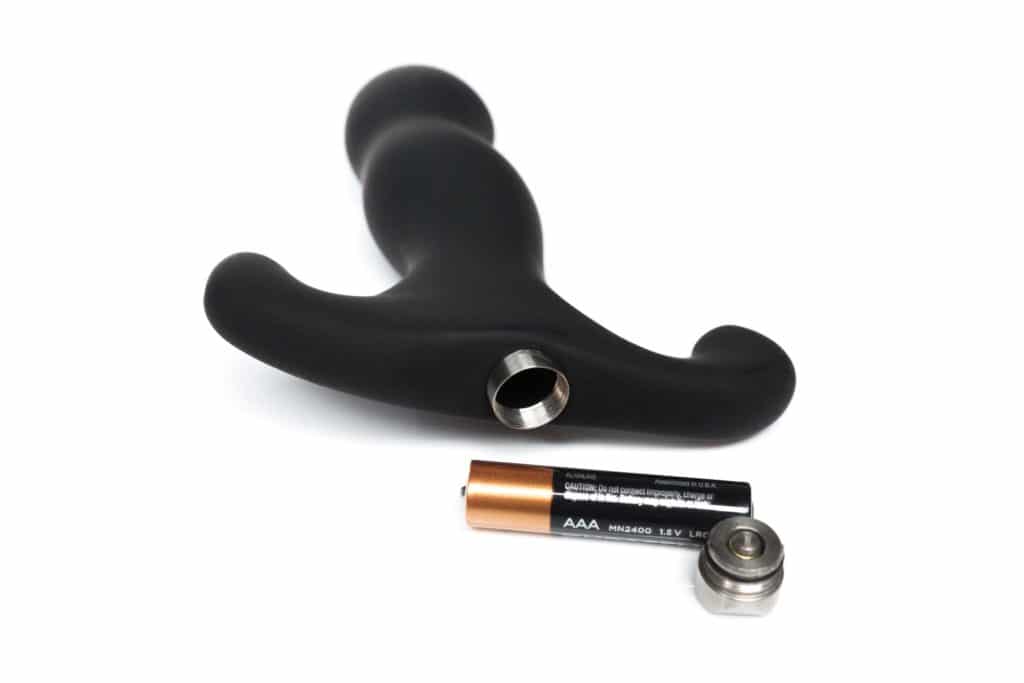 Summary: This is my favorite toy – in a tie with the other two toys below. I love how it stays snugly inside of me, and I love how the base of it feels on my perineum, and it feels amazing against my prostate gland.
Click here to get your own Vibrating Prostate Massager!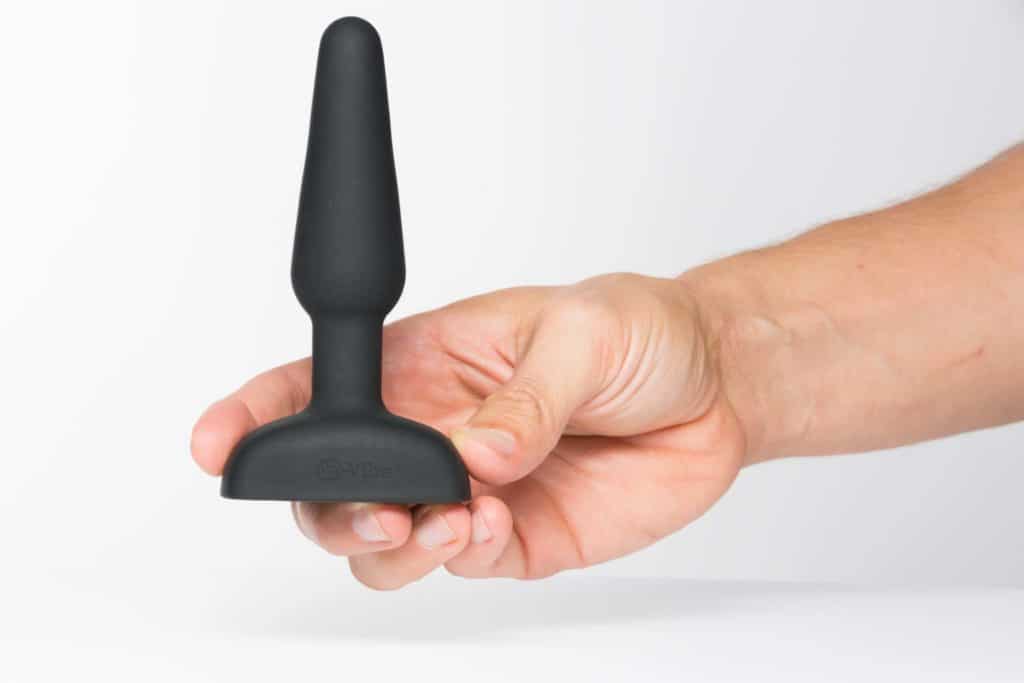 This toy is awesome, and the wireless remote control adds whole new realms of fun. For self pleasure sessions, I love how I can place this toy on a hard surface, and then slowly lower my rear end around it – it'll stand straight up on it's own. When it comes to anal plugs for solo play, this one is the cream of the crop.
This anal toy is good for:
Self-pleasure sessions
Playful experimentation with partner who has the remote
Solo exploration of your most sensitive areas
Lovemaking
PROS:
Can sit on hard surfaces and use those surfaces for leverage in getting the most pleasurable positions.
The remote is awesome.

 

Especially for self-pleasure sessions… it is really nice to not have to reach around to the bottom of the toy to adjust settings every time I want something different.
Variety of vibration settings. This toy has a number of preset vibration patterns that are amazing, and you can adjust the intensity of the powerful motors too. All adjustable via the remote
CONS:
The material seems to hold on to smells, even if washed with soap.

 

(to fix this, see – How to Clean Your Anal Toys)
The only other con for this toy is that if it's in my partner's anus, the flared base of this toy hits my cock when we have penetrative sex in a way that doesn't feel great. It has a wide base.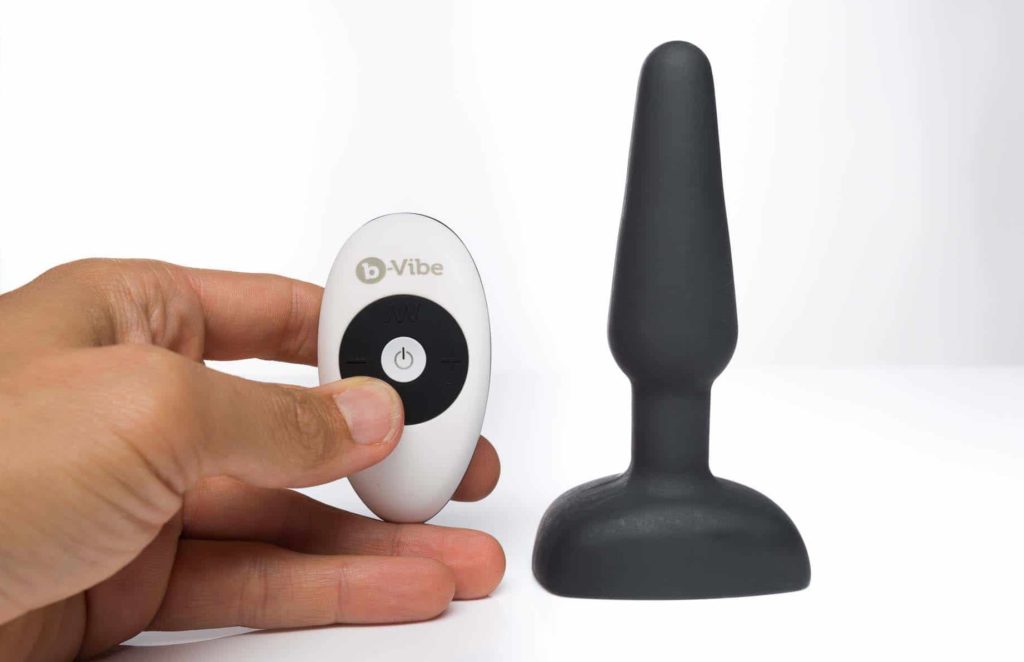 Summary: The vibrations, remote control and ability to stand straight up on its own make this plug one of my top three favorites. Highly recommended.
Click here to get your own Remote-Controlled Vibrating Butt Plug!
I love this toy specifically for self-pleasuring sessions, and for self-massage of my prostate and anal regions. I have meditated with this toy inside me, focusing on expanding my root, and it has felt absolutely amazing.
This anal toy is good for:
Self-pleasure Sessions
Prostate Stimulation/Massage
Anal Massage & De-armoring
PROS:
There's something grounding and primal about this toy

 

that no other material has given me. It literally is carved out of the earth – it's black obsidian! Out of all of the toys on this list, I think this one is made of the best material
I can get great leverage & grip with my hand(s) to massage my anal region and prostate (male G-spot). Other toys are not as easy to control from the outside.
Because of the smooth texture, it has extremely easy insertion, even if its not one of the small toys
This toy works really well for de-armoring, which is a process for opening up deep internal blocks to pleasure and intimacy. I do this by massaging every part of my anus and internal cavity with this toy (blog post coming about this sometime this year).
CONS:
This toy doesn't stay fully inserted by itself. It will fall out. If you're standing you'll need to keep a hand on it at all times. That's why I personally like to use this toy when I'm lying on my back, and/or if I'm sitting upright in meditation.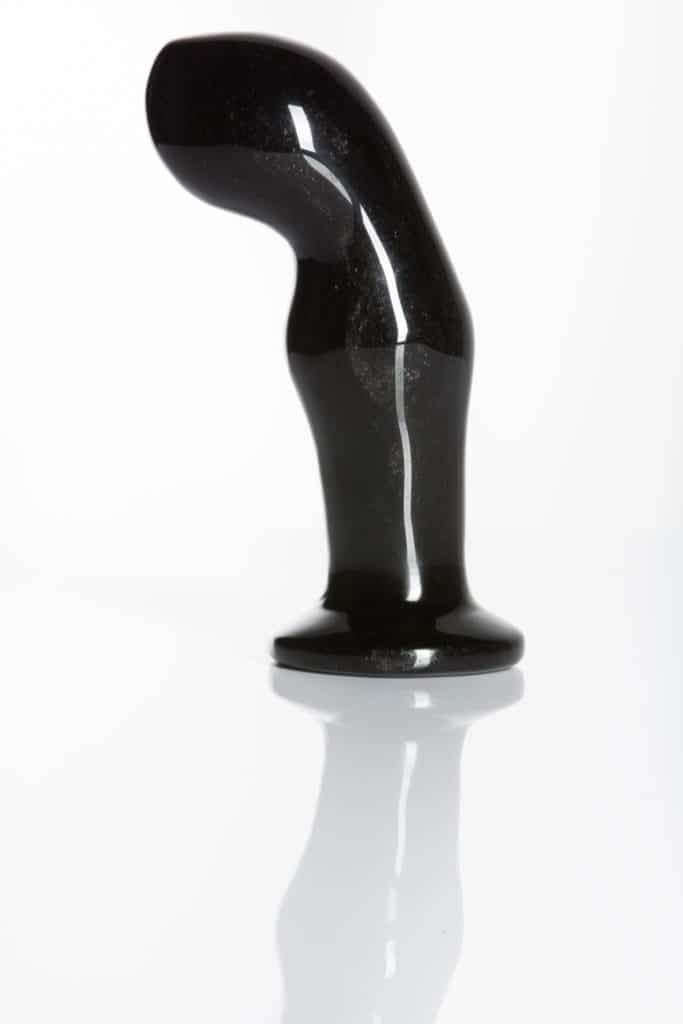 Summary: This toy is my favorite for self-massage, and for prostate massage/stimulation. The angle and size is perfect. I love the grounding energy of black obsidian too. Highly recommended!
Click here to get your own Black Obsidian Prostate Massager!
The Best Beginner Butt Plug & Anal Toy for Men
If you want to start small, these are the two toys I recommend.
You'll probably want to "upgrade" not too long after getting one of these, but that's fine. Sex & life is a journey. (These toys are too small for me right now, but they would be a great place to start).
If you're new to anal play, this toy could be a great way to start. It's essentially the same as the remote-controlled plug I listed above in my favorites, with two major differences:
It's smaller.
It has less vibration power.
This anal toy is good for
people who are new to anal pleasure, who want to start small (the tapered tip makes things really easy)
self-pleasure sessions
people who want the added sensation of vibration
lovemaking
exploring anal pleasure with minimal impact
Click here to get your own Beginner Butt Plug!
This is another great option for beginners. It's small, about the size of a finger, and is a little less expensive than the vibrating plug above.
I got this toy after exploring anal stimulation for a while, so it never stimulated me enough (because I had moved onto larger sizes). That being said, I do know men who started their journey with anal pleasure with this toy, and they loved it.
This anal toy is good for
people who are new to anal pleasure, who want to start small
self-pleasure sessions
lovemaking
exploring anal pleasure with minimal impact
PROS:
Small, and aesthetically pleasing
The handles are easy to grab, and they keep this toy in place.
CONS:
It seems fragile. When I had this inside of me, I was afraid to sit down even on my bed because I thought I might break the arms. I'm not sure if it actually would break, but I didn't want to find out. This toy seems best for positions where you're upright or laying on your back – but not sitting down.
This toy seems to hold onto smell too because of the material (silicone).

 

[Jump to – How to clean your anal toys.]
Click here to get your own Beginner Hands-Free Prostate Massager!
Black Obsidian Anal Toys
As practical as I am, I also believe that energy comes in various forms, and I love the form of black obsidian.
Black obsidian is grounding, rooting and powerful. I use these toys when I want to cultivate power in my life. Now before you write this off as too new-age, I invite you to read just a little bit further and approach this with an open mind.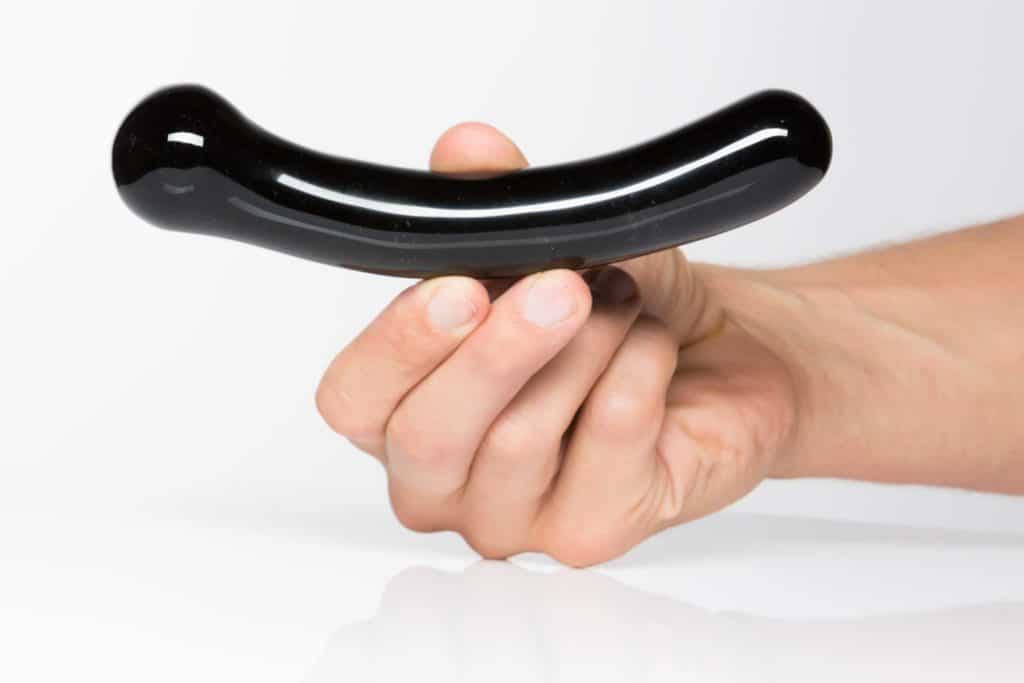 Click here to get your own! (And for more info)
Black Obsidian literally comes straight from the earth. Whether or not different stones have different qualities of "energy" doesn't really matter… Just knowing that I have the earth inside of me creates a powerful effect.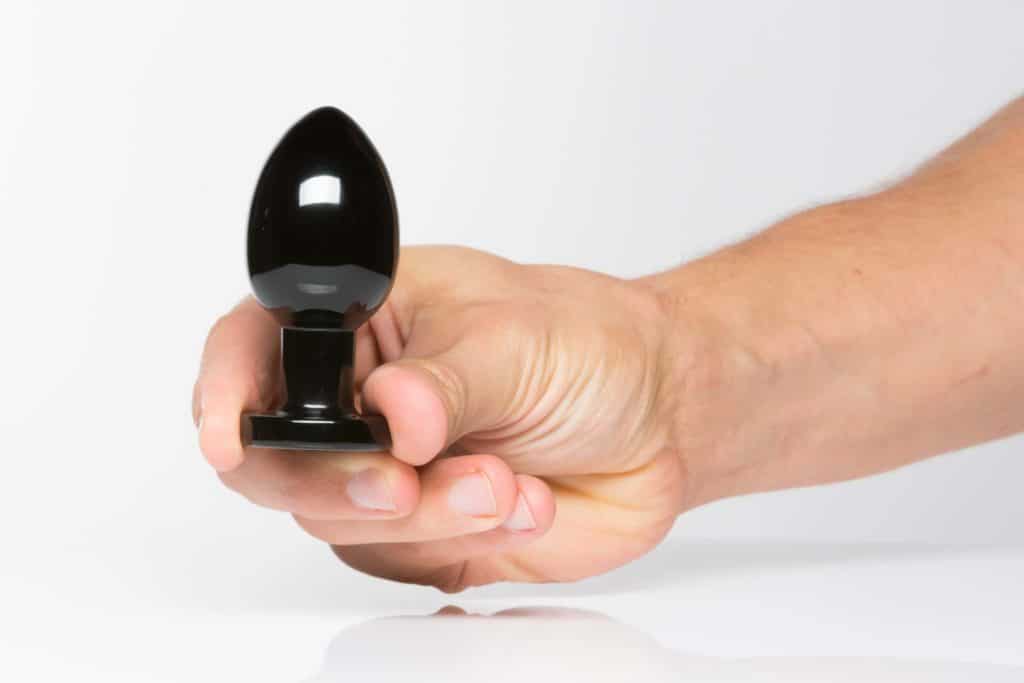 Click here to get your own! (And for more info)
I use these toys when I want to connect deeply to life. Sometimes I'll self pleasure with these, and then sit in meditation with this snug plug in… focusing on my root. I'll focus on areas of my life like stability, power, money, connection to the earth and more.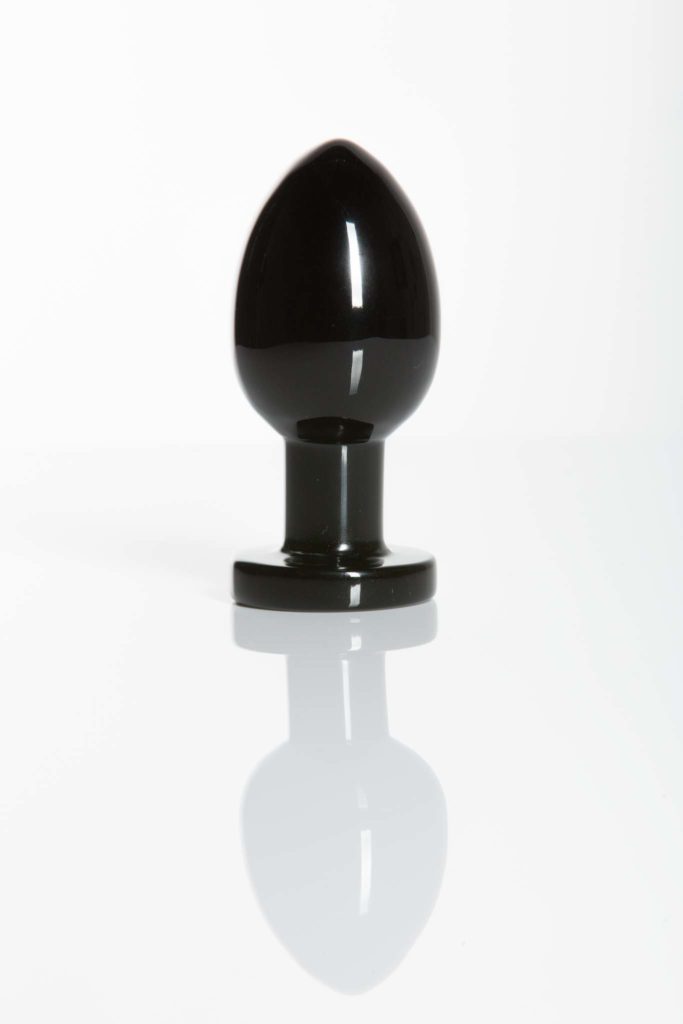 If you've never tried meditating with a butt plug in, I highly recommend it. Please feel free to reach out and ask me any questions about it.
ONE MORE FAVORITE: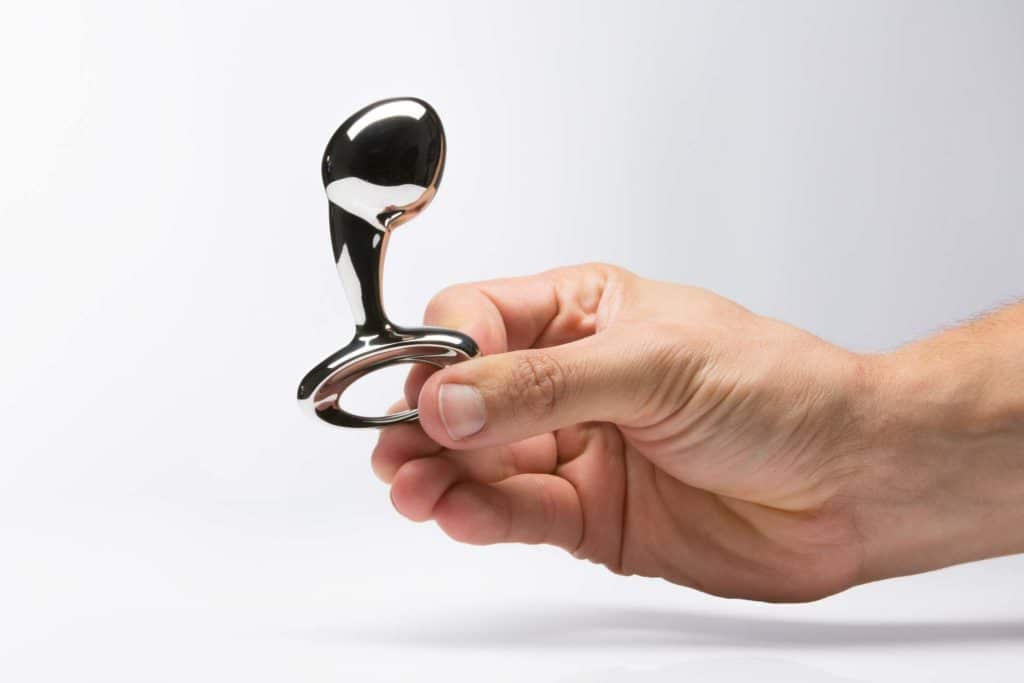 Click here to get your own! (And for more info)
I kept this one in my shower for a long time. One thing I love about this plug is the ability to do temperature play. It's fun to run hot or warm water over this to warm it up, and then insert it. The heat feels really, really good, and it has a nice weight to it too.
I also love the shape of this plug – the sensation of it going in and out feels awesome, and when it's in, I have no worries about it falling out.
One thing I dislike about this plug is the handle. I can barely get one finger through the hole, which makes it awkward to hold. If they could come up with a more ergonomic handle I would be thrilled.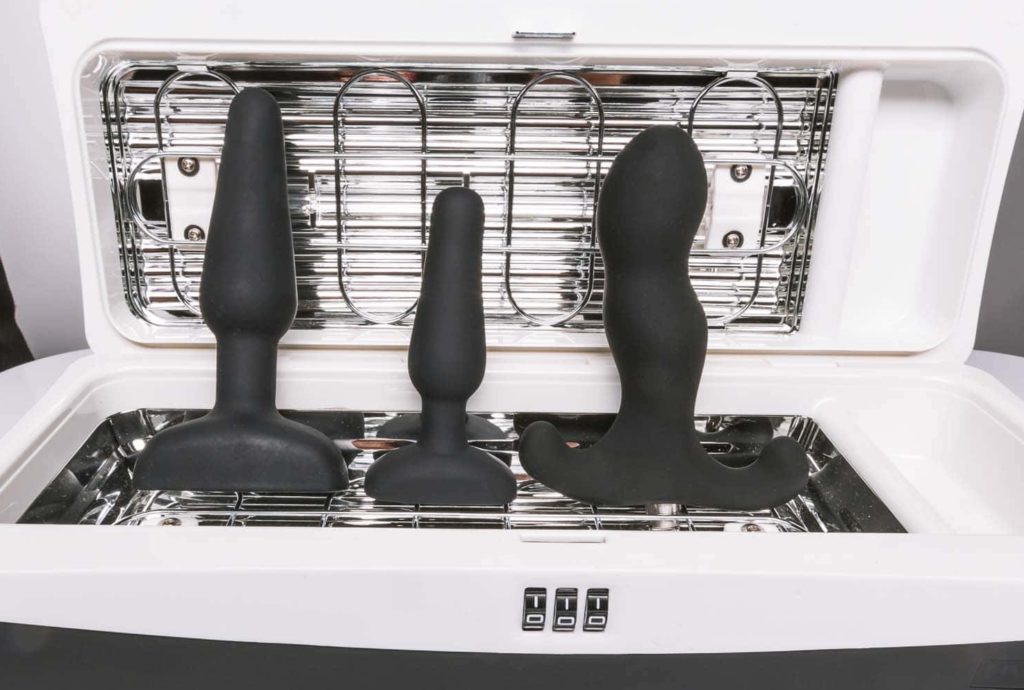 I do a simple two-step process for cleaning my toys.
Soap and water – specifically I use Dr. Bronners peppermint soap.
Then I put my toys in my Ultraviolet Toy Cleaner.
This UV toy cleaner is the only thing I've tried that is able to fully get rid of butt smell from silicone toys. It works like a fucking charm. I use it all the time.
It comes in two different sizes. I have the smaller of the two, which is less expensive (it's the one photographed here). They also make a larger version that can fit more and larger toys.
Pricing below:
Both versions are great. If I didn't already have the smaller one, I would get the larger one and keep most of my toys in it for cleaning and storage – but if you're not one of the most experienced users of anal toys, getting the larger one may be a bit overkill for now. (I can only fit 2-3 toys in the small one, as you can see here).
If you don't want to buy something like this, you could buy some sort of toy cleaner out there – possibly an alcohol-based sanitizer spray. I prefer to keep it simple though – soap + water + light.
There's a charging port inside the UV cleaner too, so if one of your toys charges via USB, you can keep it inside!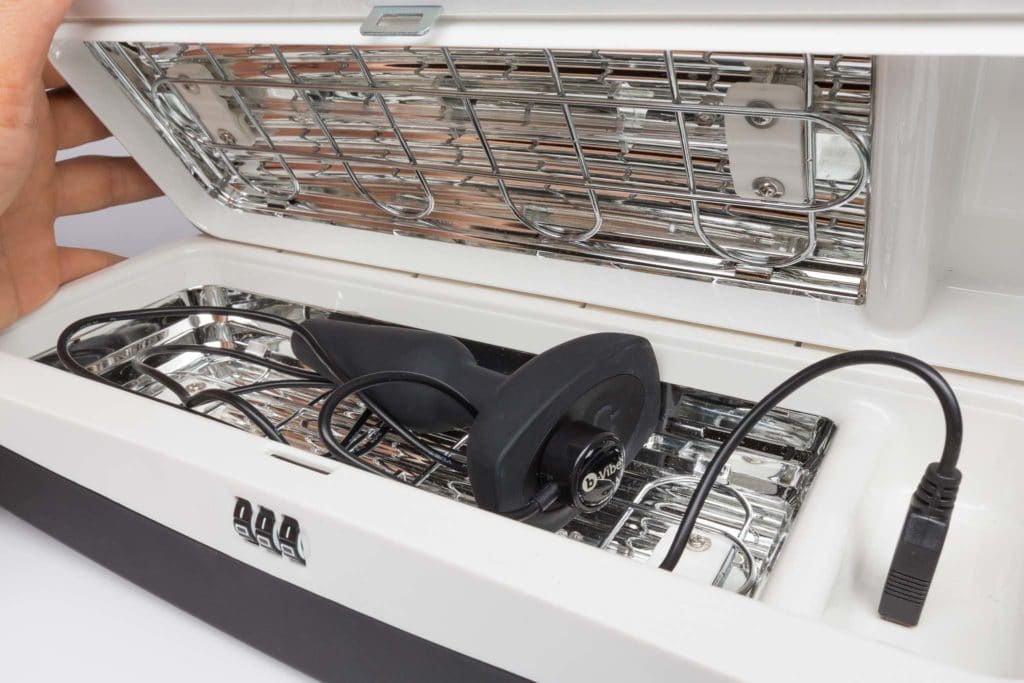 When you're ready to go into storage mode, it folds up and has an elegant look & feel to it.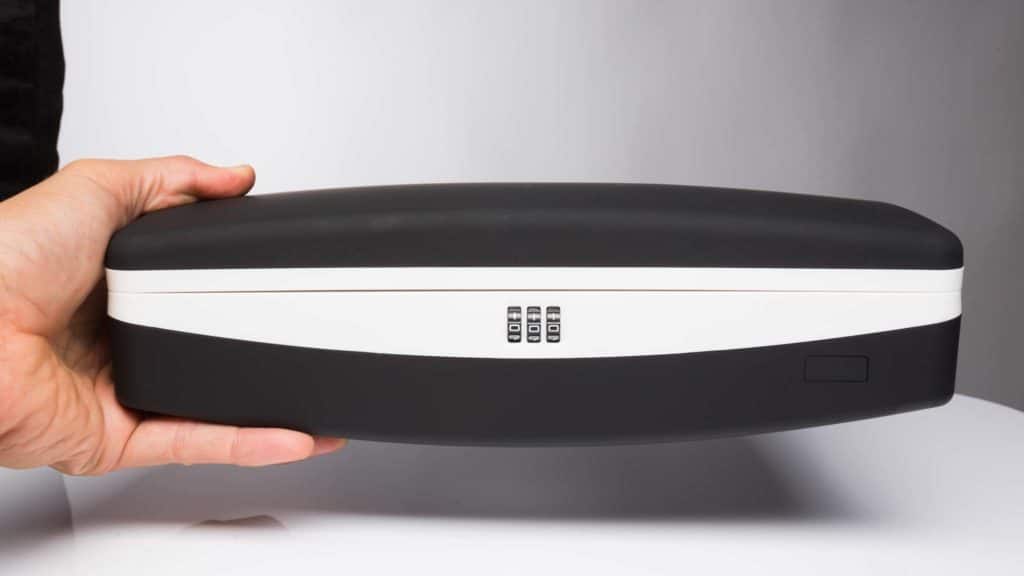 Which Lubricant Should You Use?
For the Black Obsidian and Metal toys, I love using Uberlube. This is actually my favorite lube in general. I love it for self pleasuring and vaginal sex too. It's smooth, has a luxurious texture and it doesn't have a taste or aroma! It leaves a wonderful moisturized after-feeling too. Love it love it love it. You can find some by clicking here.
For silicone sex toys, I personally love using organic coconut oil. If you want to use a water-based lube, Sliquid Organics feels awesome, but has that weird taste and smell that a typical water-based lubricant seems to have.
IMPORTANT: Do not use silicone lubricant with silicone sex toys. The Aneros and B-Vibe toys are made of body-safe silicone. You will damage these products if you use a silicone lube with them.
How to Have the Most Pleasure and Avoid Pain
This is a really sensitive area we're talking about here. You can't just jam stuff in there and expect things to feel good… it doesn't work like that.
You have to start small, and go very, very slowly. I'm talking about a quarter of an inch per minute kind of slow at first – newbies to anal penetration need to take their time with anal training; otherwise, you can definitely hurt yourself. Use lots of lube, breathe deeply, and practice squeezing and releasing your anus… FULLY releasing your anus.
Two other important points:
If you have to poop, do that first, and then clean up.
Cleanliness is crucial. Take a shower first and wash your ass. Seriously. Some people even recommend doing an anal douche. I haven't done that, and I haven't found it necessary.
You may also find it beneficial to start butt play by using anal beads; these usually get larger in size the further they are inserted into the butt, but obviously, I haven't discussed the best anal beads in this article. Even still, there are a lot of good options available on Amazon, but make sure you do some research before picking one.
My next article is going to be a beginners guide on how to experience the most pleasure with anal play. 
TRANSPARENCY
I am not sponsored by any of these companies, nor did they contact me and ask me to write a review about their products. I personally reached out to them and asked if I could be an affiliate because I like their products so much. That means I'm not getting paid for writing this article.
That being said – IF you purchase a toy through one of the links below, a percentage of that sale will go towards supporting my work in creating a new world of sex positivity.
Photography on this page: I created all of the photographs in this article. If you would like to use one of them, please credit me with a link to this website. Thank you!
Thank you!
If you have any questions, please feel free to reach out.
If you have any suggestions or ideas, please leave them in a comment below. I'll update this article every once in a while if I get a new favorite.
Thanks again! Hope you're having an awesome day wherever you are.
-Taylor